Hey guys! I bring you another fanfiction story 😀
This time I've been really obsessed with Ace of Diamond so it would only make sense that I'd be devouring AoD fanfiction, particularly Misawa fiction. And the one I'd like to talk about is The Trajectory of Laughter by PK Samurai.
The Trajectory of Laughter is currently sitting in the #1 spot for Misawa fanfics on Ao3 with more than 1,000 kudos! It's also at 39 chapters right now with many to go (it seems like, doesn't look like it's going to end soon which is always awesome).
The summary that the author put up is:
Some say laughter is the cure for everything, but they obviously never heard Miyuki laugh…
Now, with a summary like this, I was pretty skeptical about checking it out. I initially skipped it and checked out some other stories, going through the short ones first and then going back to the long ones.
Then it was time to read this one! And I can't believe it took me so long to get to reading this. I mean, it's number 1 for a reason
As a warning, there is a major character death warning! It's in the first chapter so I'm just going to tell you all who it is in the summary.
This story has Sawamura and Miyuki in an established relationship and it's set somewhere later on in the series where Miyuki has already graduated and Sawamura is the team's Captain and Ace. Right after their last play to be candidates for Koshien, Sawamura is given the news of Miyuki's death.
Not taking the news well, Sawamura decides to keep to himself and his teammates understand. They give him his space and all Sawamura can do is remember the last time he spoke with Miyuki. The last thing he'd heard was Miyuki's laugh.
As he's taking a shower, Sawamura passes out and then finds himself in his room, except all is not what it seems. Taking in everything around him he realizes he's been transported into the past, back to the time when he first started going to Seido and had first interacted with Miyuki (and by first I mean this scene right here).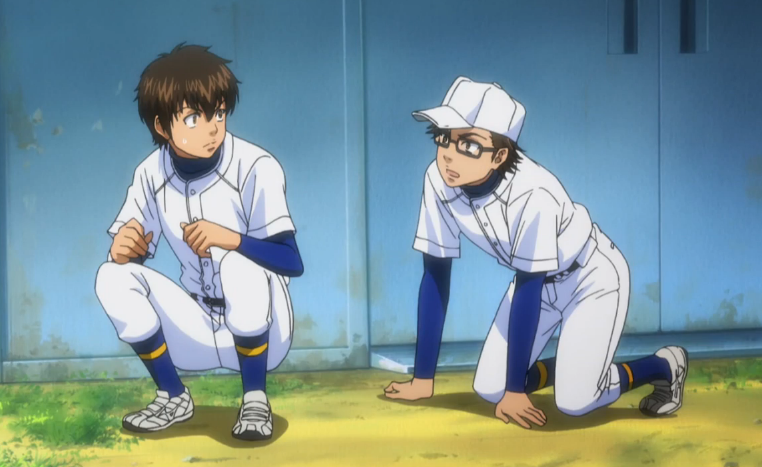 First off, I have to say that this story is amazing! And that I recommend it like I would recommend you all to breathe air! Though if you're not a yaoi fan than I would probably say not to read it because eventually (I imagine) there'll be some obvious Misawa scenes (so far there's only been one in like chapter 36 or something, oh wait, I lie. There's been 2…).
Anyways! I also have to say that this story has really frustrated me recently. There's just so many feels and I feel like I'm constantly drowning, especially nearing the 30s. So again, if you're not a fan of staying up until the next day reading chapter after chapter only to find yourself crying during, after, and days later, then this story is probably not for you 😛
We start off with everything going on as normal as any sports story/anime/manga would go, except that Sawamura is technically a third year in a first year's body. He has all the knowledge that he had before but has to retrain his body so that his stamina and physical build can keep up with his ferocity.
He's almost immediately placed into the first string and gets to be paired up with Miyuki, leaving Furuya to pitch with Miyauchi (that one guy who clutched at Kawakami's balls HAHA), however, not all is perfect as Sawamura is constantly troubled by the details of his time traveling adventure.
Why was he sent back? How was he sent back? Who sent him back? Once he's done, will he be taken back to his own timeline? Back to where Miyuki is no longer in existence…What if he doesn't want to go back? Should he show his full potential or act like a first year? Is there a way to prevent Miyuki from getting hurt (if you've watched the anime you know what I'm talking about)? Since certain events are changing because of his actions, is the future really set in stone? Can he really see Seido and Miyuki to Koshien?
While the story mainly takes place in the past (now the present I suppose), it also drops us into original timeline's past. We get to learn about what happened after Miyuki graduated college, how Miyuki and Sawamura got together, and how Miyuki died. It's after learning all of this that Sawamura's moping and mood swings really hit the reader.
I can't even remember the last story that really made me tear up just by reading a chapter. This is actually why I don't read stories with character deaths in them and I have no idea WHY I decided to continue this one. I'm glad I did but I also curse the day I pressed the next button
The feels are real and they're taking me down!
Another thing I enjoy about this is that the author writes tidbits of information at the end. For example, in all the chapters they'll explain certain terms that were used like southpaw, battery, and Kanto Tournament. They'll also sometimes leave character information, like breaking down Sawamura's player stats (stamina, control, speed, etc).
Another fun section they have is the 'Note of Interest,' which is where they'll leave actual game and player information that has to do with something they've defined or mentioned in the chapter. An example of this is:
"* 140 km/hr is around 87 mph, which is already exceptional for high schoolers. Furuya can pitch at around 150 km/hr (~93 mph) which is amazing (and is why everyone is always in awe in canon). It's especially amazing because they're only first-years who still haven't reached their full potential. A high schooler who could throw in the 120 km/hr (~75 mph) range would be considered average. I believe that in canon, Sawamura pitches at around that speed.

In MLB, the fastest pitch ever recorded was 169.1 km/h (105.1 mph), thrown by Aroldis Chapman (Cincinnati Reds).*"
So there's that appeal of being fed factual information, not that I'm a sports fan. If I had to sit through a game of actual baseball I'd either fall asleep or kill the TV.
---
Anywho, these are my thoughts on this very lovely fic! I would hope that all the Misawa fans have already checked this story out but if you haven't…well, this story is waiting for you~
Until next time 🙂